At the end of last year, IRIBA author José Roberto Afonso hosted a seminar looking at the institutional basis for Brazil's macroeconomic stability. José summarises the discussions for us here (English translation below).
O workshop Instituições para Estabilidade Macroeconômica no Brasil foi realizado na manhã do  último dia 19 de dezembro, no auditório do Instituto Brasileiro de Economia da Fundação Getúlio Vargas (IBRE/FGV), localizado em Botafogo, no Rio de Janeiro.
Foi uma parceria com a Universidade de Manchester no âmbito do projeto International Research Initiative on Brazil and Africa – IRIBA, com suporte do Department for International Development – DFID do Governo do Reino Unido.
José Roberto Afonso excplicou o projeto e apresentou o paper que elaborou com Eliana Araújo, abordando as instituições monetárias e fiscais brasileiras, sua evolução ao longo das últimas décadas e sua estruturação vigente. Depois, convidou Gabriel Leal, também do IBRE, para discorrer sobre os cenários para um ajuste fiscal. As apresentações e o paper estão disponíveis nos links abaixo no portal do IBRE.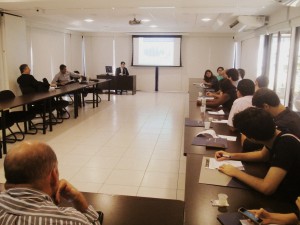 Foi seguido de um longo debate com os participantes, que compreendiam pesquisadores (em especial do IBRE), professores e alunos de universidades cariocas (como EPGE/FGV, UFRJ e UERJ), bem assim técnicos e autoridades de órgãos governamentais (como BNDES, IBGE e prefeitura do Rio de Janeiro.
Instituições e políticas fiscais acabaram por monopolizar as atenções face a conjuntura brasileira recente que foi dominada por medidas e debates em torno de uma deterioração das contas públicas, que parcialmente foram postergadas ou escondidas por medidas fiscais atípicas.  As lacunas da lei de responsabilidade fiscal (LRF), seja em termos de disposições ainda não regulamentadas (como o conselho de gestão fiscal e a limitação do endividamento público federal), seja como críticas a perda de transparência e integridade do orçamento e dos demonstrativos oficiais, foram um dos itens mais citados. Mais o sistema tributário também mereceu atenção importante face a sua perda de funcionalidade e mesmo desempenho recente, com queda da arrecadação em ritmo suerpior ao da desaceleração da economia.
O ajuste fiscal a partir de 2015 é uma imperiosidade unânime, porém, o debate deixou claro como será difícil sua formulação e implementação, seja por esbarrar em resistências políticas e sociais, seja pelas dificuldades decorrentes de uma recessão. Diferentes alternativas para aumento de tributos e para cortes de gastos foram especuladas mas o maior consenso é que seria necessário retomar uma agenda de reformas institucionais. Nesta direção, o Brasil deveria seguir o  exemplo de muitas economias avançadas no pós-crise global que adotaram programas de consolidação fiscal, que visam entregar no longo prazo os resultados que se  revelam impossíveis de serem atendidos no prazo mais curto.
José Roberto Afonso: 
Paper – Decentralization and Budget Management of local Government in Brazil
Apresentação em Workshop – Instituições para Estabilidade Macroeconômica no Brasil – Responsabilidade Fiscal
Gabriel Leal de Barros:
Apresentação em Workshop – Instituições para Estabilidade Macroeconômica no Brasil – Sobre a Conjuntura Fiscal e os Desafios
English Translation:
The workshop 'Institutions for macroeconomic stability in Brazil' was held on the morning of last December 19, in the auditorium of the Brazilian Institute of Economics, Getulio Vargas Foundation (IBRE/FGV), located in Botafogo, Rio de Janeiro.
It was a partnership with the University of Manchester and the International Research Initiative on Brazil and Africa (IRIBA), with the support of the UK's Department for International Development.
José Roberto Afonso outlined the project and presented the paper, which he wrote with Eliana Araújo, addressing Brazilian monetary institutions and tax, its evolution over the past decades and its current structure. Then he invited Gabriel Leal, also IBRE, to discuss the scenarios for a fiscal adjustment. The presentations and the paper are available in the links below IBRE's portal.
It was followed by a long discussion between participants, which included researchers (especially IBRE), teachers and students of universities Cariocas (as EPGE/FGV, UFRJ and UERJ), as well as technical and governmental authorities (such as BNDES, IBGE and the municipality of Rio de Janeiro).
Institutions and fiscal policies monopolised attention in the face of a recent Brazilian situation that is dominated by measures and debates around a deterioration of public accounts, which have been partially delayed or hidden by atypical tax measures. The shortcomings of the fiscal responsibility law (FRL), in terms of provisions yet unregulated (such as fiscal management board and limiting the federal public debt), whether as a critical loss of transparency and integrity of the budget and official statements, was one of the most cited issues. Additionally, the tax system received serious attention given its dysfunctionality and recent performance.
A fiscal adjustment in 2015 was unanimously seen as vital and necessary, however the debate made it clear that it will be difficult. Its formulation and implementation is likely to run into political and social resistance, compounded by difficulties arising from a recession. Different alternatives, like increasing taxes and spending cuts, were speculated upon but the consensus is that it would be necessary to resume an agenda of institutional reforms. In this sense, Brazil should follow the example of many advanced economies post-GFC in adopting fiscal consolidation programmes, which aim to deliver long-term results.